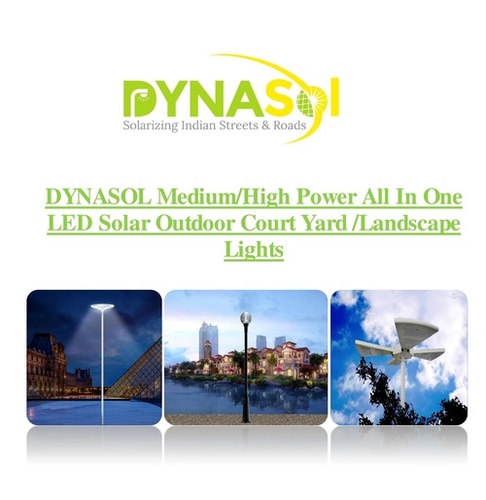 Solar Outdoor Courtyard/Landscape Lights
Product Description
Owing to our rich expertise of nine years in this domain, we are among reputed manufacturers, exporters and suppliers of Solar Light. The provided light is widely used for lightening purpose at different areas like streets, parks, gardens etc. Under our experts' observation, this light is manufactured and designed using quality-approved components and innovative techniques. Further, the offered Solar Light is available with us in various specifications in bulk at market leading prices.
Key Points:
All In One SOLAR Powered Outdoor Lights.
Elegant & Dynamic Design suitable to the South Sudan weather conditions.
Fully-automatic, no wiring or electricity required. Just Fix it on a pole/post, the system will start working automatically from dusk to dawn.
Uses green and freely-available solar energy for two to three days even during cloudy days.
Comes with a strong, sturdy framework and bracket, weather-proof die, cast aluminum, poly carbonate, stainless steel with anti-dusting powder coating.
IP-65/68 weather-proofing.
Poly/Mono crystalline built- in solar panel with 20 to 25 years life cycle.
Rechargeable Lithium Ion Batteries (Li-ion/LiFePO4) having a longer life-span and more power storing capability.

LED modules with weather-proof optic lens/cover from reputed companies, such as
BridgeLux, Samsung and Osram. Good stability and good spot lighting with balanced distribution.

PIR sensor (infrared sensor) has a detection range of about six to ten meters. This sensor is from reputed brands and has stable and reliable properties.
A charge controller, battery regulator limits the rate at which electric current is added to or drawn from electric batteries. It prevents overcharging and can protect
against abrupt voltage fluctuation.
Working mode: This can be customized as per customer needs Full bright mode: 100% power throughout night. Dim mode: (30~50% power): While person is out of the detection range of PIR sensor (infrared sensor).100% full bright, while person walks into the detection range of PIR sensor (infrared sensor)
1 Year full warranty
Back up spares are available.
Application: Yard, Compound, Home, School, Collage, Highway, Road, Walkway, sidewalk, Ranch, River front, Beach, Mall, Public Square, Security Perimeter, Bus Park, Air Port, Defense Installation, etc etc.